By: Atul Kapoor Staff Writer For World Liberty TV
What kind of historical figures make the best subjects for biographical musicals? Political leaders and royalty? Musical, theatrical, or cinematic personalities? Religious visionaries? Gangsters? Businessmen? Athletes? Artists? Literary figures? Surely not the latter, as Himself and Nora, the humdrum new musical by Jonathan Brielle, about the career and love life of James Joyce (Matt Bogart, Jersey Boys), makes abundantly clear.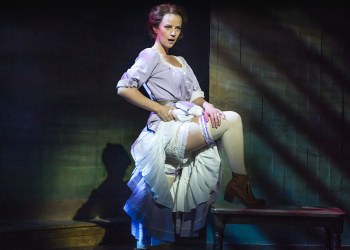 Advertised as "the greatest love story never told," Himself and Nora (which premiered in San Diego in 2005 and was seen at the 2012 New York Musical Theatre Festival) is a chronologically organized, impressionistic flashback framed by Joyce's death in 1941, with a priest (Zachary Prince) offering the last rites. In a nod to Joyce's disgust with Irish Catholicism's oppressive dictates, the priest appears throughout as an omniscient presence, offering ironic, but largely unenlightening, asides.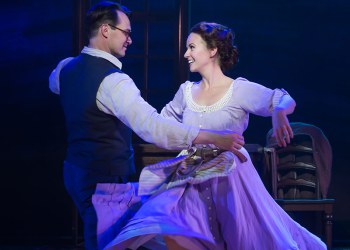 Concentrating on Joyce's relationship with Nora, whom he meets in Dublin in 1904, the book introduces Joyce's hard-drinking father (Michael McCormick) and dying mother (Lianne Marie Dobbs); offers Joyce multiple opportunities for randy lovemaking with Nora ("Kiss"), on whose colorful (or, perhaps, off-color) language his writing comes to depend; follows the couple into self-imposed exile in Trieste, where Joyce teaches English; touches on his failing eyesight; and celebrates his ultimate success when, with the support of Ezra Pound (McCormick) and Harriet Weaver (Dobbs), Joyce and Nora move to Paris and Sylvia Beach (Dobbs) publishes Ulysses to great, if controversial, success. Joyce and Nora, who have two unstable children, Lucia (Dobbs) and Giorgio (Prince), finally wed in 1931 after 27 years together; naturally, strife and reconciliation ensue.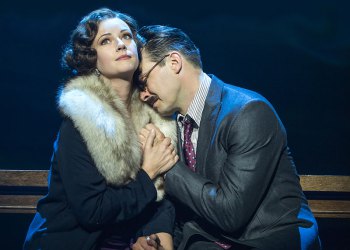 Himself and Nora Performance is at Minetta Lane Theatre NYC ,Through Sept 4th 2016.
The Cast of Himself & Nora
The Stage where the Performance took place
Playbill Program
I really have to say it was a great Off Broadway Production, and it was a great Love Story with memorable songs. You don't want to miss it. We highly recommend it and we would like to thank Ms Merrie L. Davis, Co-Producers of Himself and Nora, for her kind invite. Ms Merrie L. Davis is also the founder of Next Act 2 Follow.