BY: World Liberty TV Toy and Gaming  Review Team
Sweet Suite is The Biggest Night of Play! Now in its 10th year, this legendary toy party brings together more than 85 kids' and pop culture brands under one roof at beautiful Pier Sixty in New York City.
Members of the media are invited to check out exclusive toy reveals, enjoy bites & and cocktails, and let their "kid at heart" out to play with fun hands-on play experiences, games, contests and more! The event is hosted by leading consumer toy publication and review site The Toy Insider and produced by Adventure Media and Events, LLC.
The Following Toys were showcased at Toy Insider's  10th Annual Sweet Suite Event New York City 2019:
3Doodler : Is a technology company making creativity tangible through its range of 3D printing pens and accessories. Founded in 2010, the company went on to raise $3.89 million on Kickstarter to support the production of the world's first 3D Printing Pens and has since sold two million units worldwide. 3Doodler now makes products for all ages and skill levels of creators whether they're 3D sketching, tracing shapes from templates or creating architectural models or entirely unique 3D structures. Headquartered in New York, 3Doodler 3D pens and accessories are now available online and in brick-and-mortar retail stores in more than 60 countries. To see the full 3Doodler product range, learn more about the company, download hundreds of free projects or see how the 3Doodler can make an impact in education.See More about 3Doodler by Clicking here.
Little Bits: Tomorrow's leaders are today's kids, so we're working to empower kids everywhere — regardless of gender, race, nationality, and ability — to solve the epic challenges ahead. We're building a future where chief change makers and problem-solvers are not limited to elite experts. See More about Little Bits by clicking here.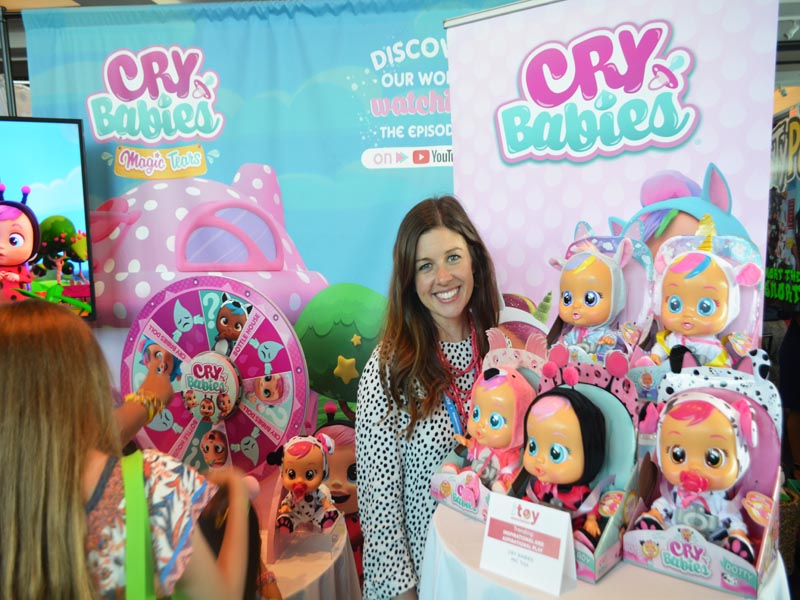 CryBabies Toys:  Meet the Cry Baby Fancy, she is a flamingo and very sweet! She is very cute but… she cries real tears when you take her dummy out! Put her dummy back in again or she won't stop crying and she cry even louder! You can also lay her down to calm her. See More about Cry Babies Toys by Clicking here.
The ZURU Pets Alive:  range features Boppi, alongside a Magical Unicorn, Cute Scootin' Hamster, Adorable Angel Fish, Magical Mermaid, and Tiny Turtle.  The introduction of the new brand to ZURU's product portfolio sees an extension of its popular Robo Alive robotic creatures IP.  This follows the company's recent reports of Robo Alive achieving growth figures of ++500% at retail between Jan-Oct 2018.  Robo Alive Attacking T-Rex was in the top 15 Youth Electronic toys sold in October 2018.See More about The ZURU Pets Alive by clicking here.
About Sweet Suite: Known as The Biggest Night of Play, Sweet Suite  is a legendary toy party for members of the media and digital influencers. Guests are invited to check out the hottest new toys and collectibles of the year from more than 85 kids' and pop culture brands, including exclusive never-before-seen product reveals. Sweet Suite encourages all attendees to let their "kid at heart" out to play while they enjoy hands-on play, fun photo opps, contests, games and more. The event is produced by Adventure Media and Events, LLC.
About The Toy Insider: The Toy Insider is the go-to source for product information about children's toys, tech and entertainment. It publishes two annual gift guides—one for summer and one for holiday—and reviews toys 365 days a year on thetoyinsider.com, a trusted resource for parents. The Toy Insider's content is produced by an editorial team with more than 75 years of combined experience covering the toy industry. The Toy Insider is published by Adventure Media and Events, LLC, which also produces leading trade publication The Toy Book.
About The Pop Insider: Launched in 2018, The Pop Insider is a multimedia publication that lets superfans fuel their fandoms 24/7 with the content they crave through a daily pop culture news and review site, weekly e-newsletter, seasonal print magazine and ezine, and real-time social media updates. Both digital and print editions are produced by Adventure Media and Events, LLC.
See more about Toys, Games in our World Liberty TV Toy and Game Review Channels and blogs by clicking here.