By:Dr.Adal M.Hussain,Phd (AKA) Dr.Abbey ,Editor @ Large for World Liberty TV
Bare Knuckle Fighting Championship Returns Saturday, June 22 Headlined by Paulie Malignaggi vs. Artem Lobov Grudge Match Live on Pay-Per-View from Florida State Fairgrounds Entertainment Hall in Tampa, Fla.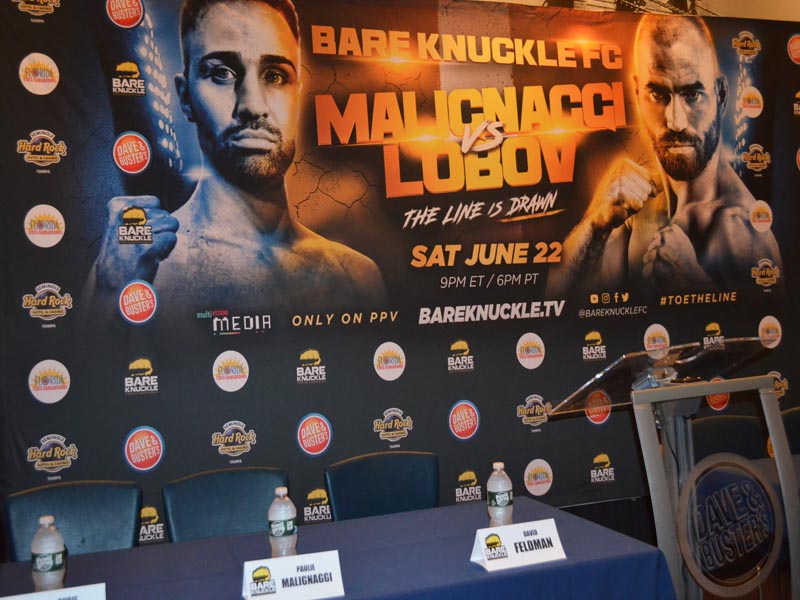 Stacked Night of BKFC 6 Action Features UFC Veteran Chris Leben Against Bellator Standout Brennan Ward, Plus! BKFC Lightweight Championship Showdown Between Reggie Barnett & Johnny Bedford A highly anticipated grudge match between former boxing world champion Paulie "The Magic Man".and UFC veteran Artem "The Russian Hammer" Lobov will headline Bare Knuckle Fighting Championship (BKFC) action on Saturday, June 22 live on pay-per-view from Florida State Fairgrounds Entertainment Hall in Tampa, Fla.
The televised portion of the can't-miss night of fights will begin at 9:00 p.m. ET/6:00 p.m. PT and will also see former UFC Veteran Chris Leben in his second BKFC attraction, as he takes on longtime Bellator standout Brennan Ward. Plus, the finals of the BKFC Lightweight Tournament will pit Reggie Barnett against Johnny Bedford in a showdown for the BKFC Lightweight Championship.
"Coming off of our epic battle on April 6 between Artem Lobov and Jason Knight, the momentum is incredible coming into BKFC 6," said BKFC Founder and President David Feldman. "With the feud that Paulie and Artem have already, this promises to be super exciting. This is bare knuckle and everything changes when they fight bare knuckle. So, whatever plans you have can go out the window quickly. That's what makes this so exciting and why I am so excited for this fight. I think we will have a lot of eyes on this event and we are very happy to be hosting this in Tampa, one of the best fight markets in the country. I truly can't wait for June 22."
The event will be broadcast across the United States and Canada, exclusively on pay-per-view through MultiVision Media, Inc., on all major television distribution outlets for $39.99. It will also be available worldwide via stream to all in-home and out-of-home connected devices at FITE-TV .
Tickets for "BKFC 6" will be available starting Thursday, May 16 .Florida will become the latest state to host a BKFC event after previous contests have been held in Wyoming and Mississippi, plus an event that took place in Cancun, Mexico.
Malignaggi vs. Lobov will see the much-discussed rivalry between Malignaggi and MMA star Conor McGregor come to a head when Malignaggi squares off against one of McGregor's teammates and friends in Lobov. Prior to Lobov's BKFC debut in which he defeated Jason Knight in April, Malignaggi and Lobov exchanged words and nearly came to blows at a media day in New York. With the June 22 fight date set and buzz continuing to grow, they will soon settle the conflict in the ring.
"I'm very excited to make my BKFC debut and for this fight to take place in Florida. Bringing BKFC to another state is only going to help this sport grow faster and attract more attention to bare knuckle fighting," said Malignaggi. "It's no secret, Artem and I have some bad blood between us. I don't like him and I'm looking forward to sinking my fists into his face. June 22 can't come soon enough. Fans are going to really enjoy this one as the biggest BKFC card yet, and it'll set the stage for even bigger and better events as more fighters realize that they can make a good living and have a great career in this discipline of combat sports."
"I'm really looking forward to this fight," said Lobov. "Paulie has been doing a lot of talking. He hasn't been able to keep his mouth shut, but on June 22 I'm going to silence him. He's an old boxer who's coming off of the couch. He's only doing this because he didn't manage his money better, so now he has to take a fight against me, 'The Russian Hammer.' I expect to maul Paulie in there. He doesn't know what he's in for. I'm going to introduce him to some things that he's never seen before and this is going to be a real fight."
A two-time, two-division boxing champion, Malignaggi joined BKFC earlier this year and plans to show off the skills that made him a world champion at 147 and 140-pounds. Representing his hometown of Brooklyn, New York, Malignaggi faced top competition and big stars such as Miguel Cotto, Zab Judah, Ricky Hatton, Shawn Porter, Danny Garcia, Amir Khan and more throughout a career that spanned sixteen years. He put on title-winning performances against Lovemore Ndou and Vyacheslav Senchenko while also defeating Judah, Juan Diaz and Pablo Cesar Cano amongst his notable wins. He has not fought since 2017, but remains a staple of the of the combat sports world through his renowned work as a color commentator and analyst.
A 32-year-old fighter from Russia, Lobov defeated Jason Knight by unanimous decision in an exciting brawl to make his BKFC debut successful in April. Lobov made his name on Season 22 of The Ultimate Fighter as part of Team McGregor, where he worked his way to the finals of the tournament before losing to Ryan Hall. Now fighting out of Ireland, where he continues to train with McGregor, he challenged Cub Swanson in a UFC main event in 2016, after picking up victories over Chris Avila and Alex White. While he lost his last three UFC bouts by decision, he owns 13 professional MMA wins.
About Bare Knuckle Fighting Championship: On June 2, 2018, Philadelphia-based Bare Knuckle Fighting Championship (BKFC) made combat sports history when it promoted the first legal, sanctioned and regulated bare knuckle event in the United States since 1889. "BKFC 1: The Beginning" took place in Cheyenne, Wyoming and featured 10 professional bouts, all under the auspices and control of the Wyoming Combative Sports Commission. BKFC uses only established fighters who have previously competed professionally in boxing, MMA, kickboxing and/or Muay Thai. All BKFC bouts are sanctioned and regulated by ABC member athletic commissions.
See exclusive interview with Bare Knuckle Fighting Championships , President and CEO David Feldman ,in our World Liberty TV Boxing Channel by Clicking here.