By : Dr.Adal M.Hussain,Phd (AKA) Dr.Abbey  ,Editor @ Large for World Liberty TV
 We found the following Gadgets below we feel are very unique , well priced  and  are widely used by many people.See Reviews below!.
Audio Technica   ATH-MSR7NC
SonicPro High-Resolution Headphones with Active Noise CancellationThe ATH-MSR7NC headphones combine the Hi-Res Audio technology and design features from the original ATH-MSR7 with newly developed active-noise cancelling technology to bring you the ultimate listening experience.
These headphones are outfitted with exclusive 45 mm True Motion Drivers to deliver distortion-free audio reproduction with extended frequency response. A miniature microphone is incorporated into the top of each earcup to pick up ambient noise that can then be blocked by an appropriate sound-cancelling signal when the active noise-cancelling function is activated. Having the microphone on the top, instead of on the side, of the housing ensures consistent noise cancellation unaffected by the user's head movement or by wind noise. Each earcup also has an acoustic vent, ideally positioned on the side of the housing, 90 degrees from mic, to enhance tuning without negatively affecting sound quality. The result is consistent Hi-Res Audio reproduction whether in active or passive noise-cancelling modes.
The ATH-MSR7NC's highly flexible swivel design, along with its soft, memory foam earpads and headband, ensure lasting comfort even during the longest listening sessions. The headphones also come with two detachable cables: 1.2 m (3.9′) standard cable and a 1.2 m (3.9′) cable with in-line controls and microphone for use with smartphones. An internal 3.7V lithium polymer battery powers the active noise-cancelling function and can easily be recharged using the included USB charging cable.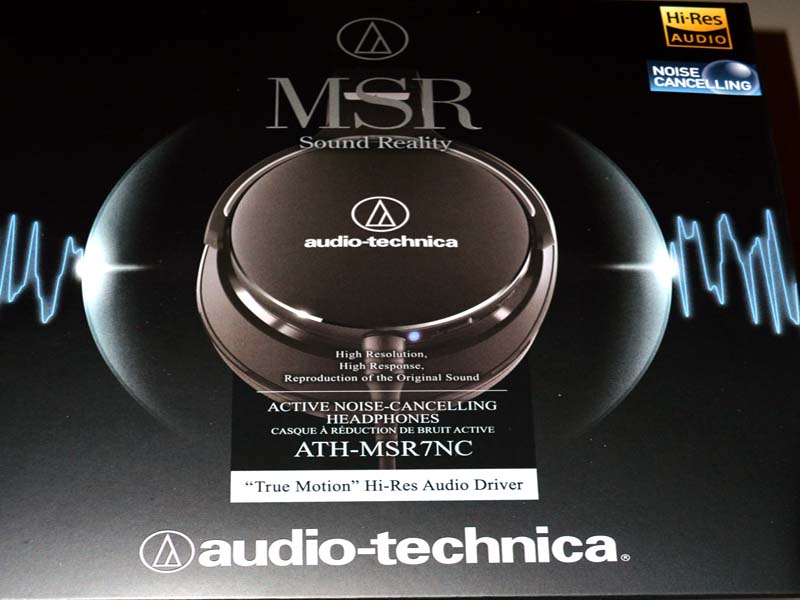 Features: Exclusive 45 mm True Motion Drivers, featuring a highly responsive diaphragm and lightweight voice coil, deliver Hi-Res Audio with controlled transients
Noise-cancelling and venting technologies work together to maintain the Hi-Res Audio reproduction in both active and passive noise-cancelling modes
360° omnidirectional noise-cancelling technology with high signal-to-noise ratio ensures consistent noise cancellation that is not affected by user's head movement
Precision-tooled flange and crescent-shaped PCB balance and tune the mid/low frequencies for reduced distortion
Ultra-comfortable memory foam earpads and headband
Internal rechargeable battery provides 30 hours of continuous headphone use when fully charged
Two detachable cables: standard 1.2 m (3.9′) cable and 1.2 m (3.9′) smartphone-compatible cable with in-line mic and controls for answering calls and controlling music
Includes airline adapter, USB charging cable and pouch To View More about  Audio Technica   ATH-MSR7NC .
Amazon Fire TV Now with 4K Ultra HD
Amazon Fire TV now supports 4K Ultra HD for true-to-life picture quality. Watch high-definition 1080p streams on Amazon Video, Netflix, YouTube, Hulu and more, even without a 4K TV.
Now with Alexa, use your Fire TV Voice Remote to check local theater times, news, sports scores, the weather, play music, and more – just askEnjoy over 4,000 channels, apps, and games including access to over 250,000 TV episodes and movies on Netflix, Amazon Video, HBO GO, Hulu, and more.
Cutting the cord? Watch the best of live TV on NBC News, NBA, and Sling TV, which includes ESPN, CNN, HGTV, AMC, A&E, Cartoon Network, and more.
Say it. Watch it. Simply say the name of what you want to watch and start enjoying in seconds.
Now with 75% more processing power, a dedicated graphics engine, better Wi-Fi support, 2 GB of memory, 8 GB of storage and expandable storage of up to 200 GB
With over 1200 games – the most games of any other streaming media player – there is something for the entire family, including Minecraft, Lego Star Wars, and Pac-Man 256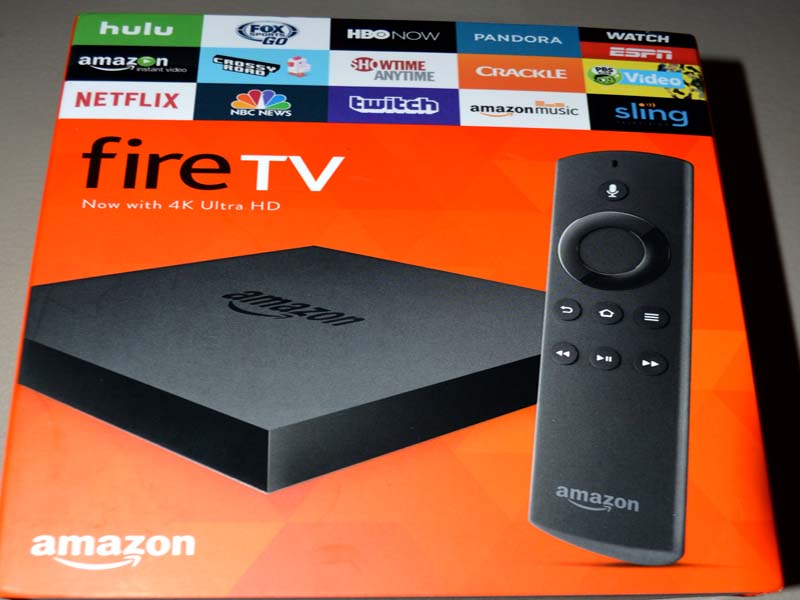 Amazon Prime members get unlimited access to Amazon Video, including original programming like Transparent, plus over 1 million songs with Prime Music. Now get a subscription to apps like Showtime and STARZ to watch TV episodes, movies, and sports, without cable. View Amazon Fire TV Now with 4K Ultra HD .
Sandisk Connect Wireless Stick 64GB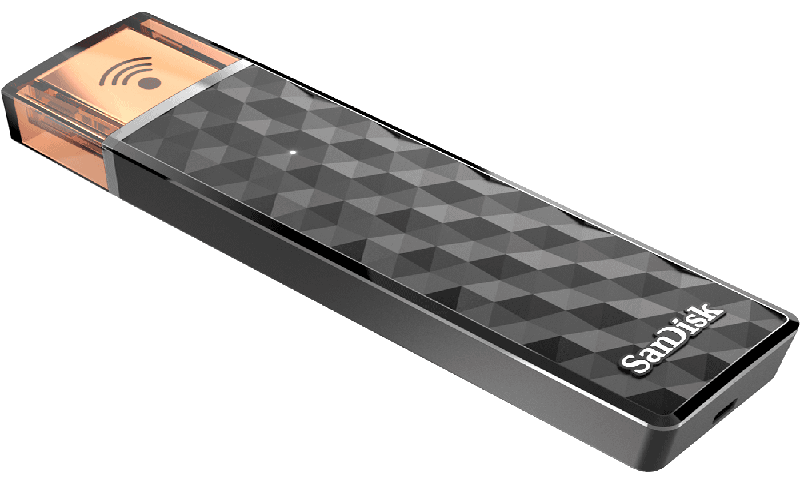 SanDisk Connect Wireless Stick is the flash drive reinvented to work with both your computer and your mobile devices. With the Wireless Stick in your pocket, in your bag or across the room, you can wirelessly access your media or transfer large files, stream HD videos and music1, and save and share photos and videos to and from your mobile device2.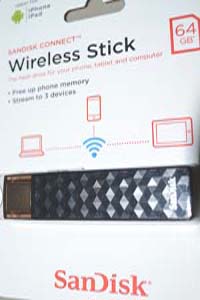 Wirelessly save and access all your stuff
With the SanDisk Connect app installed on your mobile device2, you can upload, download, save, share and play all your stuff from a distance, to and from the device you want to use.
Free Up Phone/Tablet Memory
Offers 16, 32, 64, 128 or 200GB3 so you never need to worry about being out of memory.See Sandisk Connect Wireless Stick.
Sandisk ixpand Flash Drive 128 GB with USB 3.0 Connector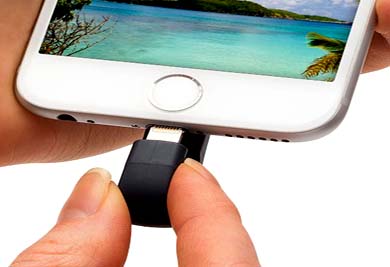 Designed to be the perfect companion for your iPhone, the iXpand Flash Drive offers an easy way to free up space on your iPhone, automatically backs up your camera roll, and even lets you watch popular-format videos straight from the drive4. The drive has both a flexible Lightning connector that works with most cases and a USB 3.0 connector to plug into your Mac computer or PC so you can easily move your stuff where you want it. The iXpand Flash Drive also includes encryption software that lets you password-protect files, so you can share your content while keeping sensitive files secure across your devices5. Take all the photos and videos you want—the iXpand Flash Drive delivers a fast and simple way to free up space on your iPhone so that you're always ready to capture more memories.
Free up Space Fast!
Free up space on your iPhone or iPad quickly with the iXpand Flash Drive1. Simply plug in the Lightning connector and you can easily move photos, videos and other files off your device and onto the drive. From there, you can transfer the files onto a Mac computer or PC or store them on the drive.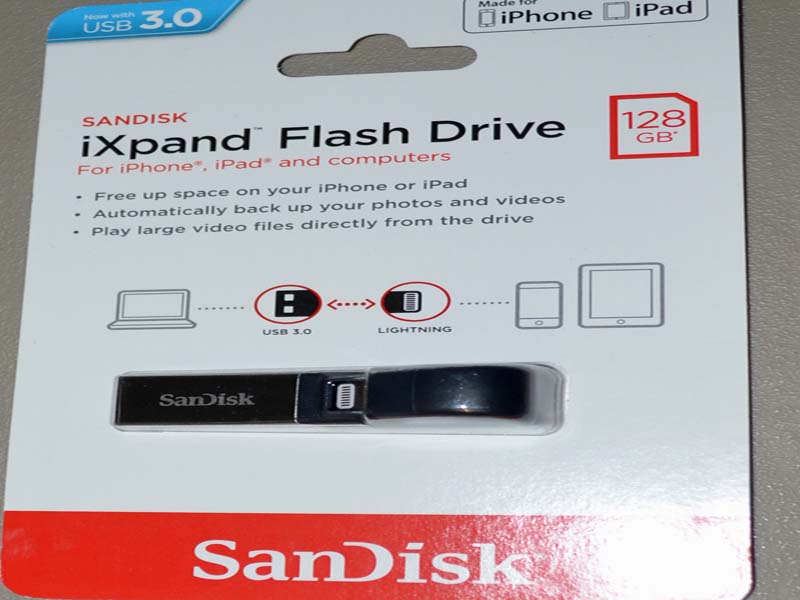 iXpand Mobile App
Available from the App Store, the iXpand Drive app makes it easy to manage your photos and videos and also enables you to watch popular video formats3 directly from the drive.
Check out Sandisk ixpand Flash Drive 128 GB with USB 3.0 Connector.
Sandisk Extreme 510 Portable SSD 480GB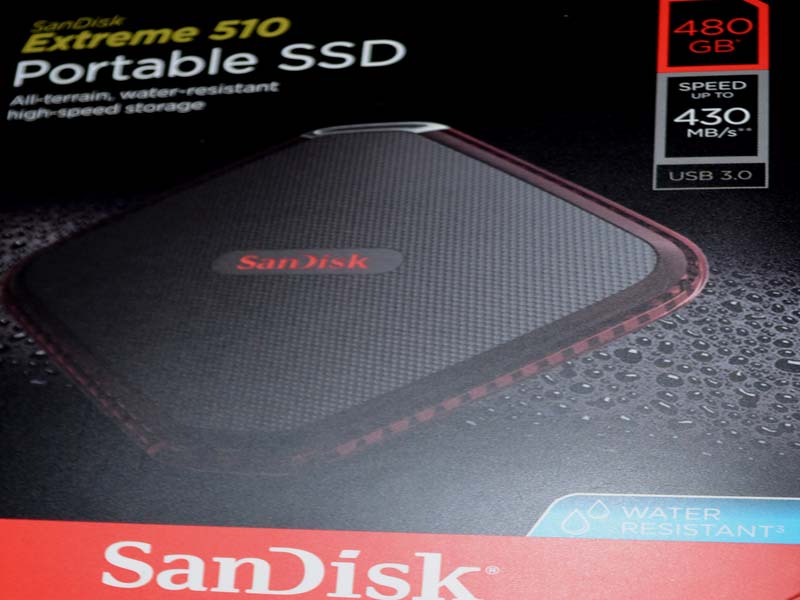 High-performance, all-terrain, water-resistant portable SSD3
Designed with photographers, videographers, and creative professionals in mind, the SanDisk Extreme 510 Portable SSD combines the performance of a portable SSD with all-terrain durability and water resistance.3 Perfect for your next trek, outdoor adventure or on-location shoot, this truly portable SSD clips securely to your bag or is small enough to conveniently fit in your pocket. With capacity of up to 480GB* and read speeds of up to 430MB/s6, your transfer times are dramatically reduced compared to those of typical hard disk drives, even when moving high-res files.1 The tough, water-resistant SanDisk Extreme 510 Portable SSD includes 128-bit encryption for password-protection2, making it a must-have for your most important files.
Portable Capacity
With capacity of up to 480GB, you'll be prepared to carry your highest quality content from multiple shoots, whether in the studio or in the field.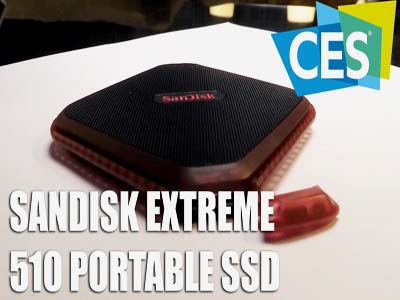 Simply Runs from the USB Port
The SanDisk Extreme 510 Portable SSD requires only a small amount of power through the USB 3.0 port—no need to carry additional power cords.
View more of Sandisk Extreme 510 Portable SSD 480GB.
Check out More Technology Reviews in our World Liberty TV .
See Who is Who in the Technology World!.