By;Betty Coker, Editor in Chief  For World Liberty TV
We did the following tour for San Diego in California, for our World Liberty TV , Travel and Tourism Channels, we have to say it is very impressive the history San Diego has to offer the world.
We covered the following Tourist attractions, in our ventures:
Old Town San Diego and Old Town Market:  Native American culture in the San Diego area goes back over 10,000 years. When the Europeans arrived at what is known as Old Town San Diego today, it was already home to the Kumeyaay people. The Kumeyaay had been living on the banks of the San Diego River for thousands of years. The Kumeyaay existed in a sophisticated hunter- gather lifestyle. Small game and acorns were the major food sources. However, their knowledge of the land yielded additional food stuffs and medicine.
In 1853, Don Jose Antonio Aguirre builds one of the first houses in Old Town San Diego, the Casa De Aguirre. Don Antonio was a wealthy merchant and a successful rancher. His ships traded mostly with Peru and China, exchanging San Diego cow hides and tallow for goods. While focusing his efforts in ranching, he became one the largest land owners in California. Since he was born in Spain in 1799, he was both a Mexican citizen and American citizen during his lifetime. Don Antonio was known as a charitable man, and one of his original charitable works still stands in Old Town San Diego.
EMBARCADERO : Located adjacent to Downtown San Diego along the Big Bay, San Diego's Embarcadero is a testament to the region's colorful maritime history complete with historic ships, museums and harbor tours, as well as a working fishing harbor, cruise ship terminal and plenty of hotels, restaurants and shops.
Seaport: A 14 acre waterfront shopping, dining and entertainment complex recreating a harbor side setting of a century ago. Includes 54 one of a kind shops, 13 casual dining eateries, 4 fine dining waterfront restaurants, and located in close proximity to local hotels. Opened in 1980.
Downtown San Diego on West Harbor Drive and Pacific Highway. Adjacent to Embarcadero Park North. 5 minute drive from the airport & cruise ship terminal. The boardwalk connects with the Convention Center, Marriott Hotel & Marina, Manchester Grand Hyatt and Midway Museum.
Convention Center/Marriott: Marriott Marquis San Diego Marina. Situated on the waterfront overlooking San Diego Bay in downtown San Diego, our 4-star hotel offers something for everyone. Whether you're here on a family vacation or for business, you'll love our superb location steps away from the San Diego Convention Center and near attractions like the Gaslight District, Balboa Park and the San Diego Zoo.
Horton Plaza: Located in Downtown San Diego, Westfield Horton Plaza is accessible by riding the Metropolitan Transit System (MTS) Bus and Trolley. Buy a One-Way fare, One-Day or 30-Day pass and you're good to go! Can't find your Compass Card? Download Compass Cloud, MTS' free mobile ticketing app, to buy a pass from your smartphone for immediate use anytime, anywhere.
Gaslamp Quarter: Though the Gaslamp Quarter Association was officially chartered in 1982 by the City of San Diego under State Law, the Gaslamp Quarter's Merchant Association goes back several decades and the historic commercial district that would become the Gaslamp Quarter began as William Heath Davis' New Town in 1850. The Gaslamp Quarter's colorful history, combined with its modern-day, world-class boutiques, galleries, and restaurants, is what makes this urban district unlike any other.
Hilton Bayfront:  San Diego's distinctive coastal culture is obvious the moment you arrive at Hilton San Diego Bayfront. This 30-story hotel, with sun and sea-inspired design, offers a cool vibe and great amenities. Our location, adjacent to the San Diego Convention Center and across the street from Padres' Petco Park, couldn't be more convenient. While you're here, enjoy stunning views, relaxing leisure facilities, extensive meeting space, and trendy dining venues.
Balboa Park: Ever changing. Always  amazing.  Where culture, science, and nature collide, Balboa Park is home to more than 16 museums, multiple performing arts venues, lovely gardens, trails, and many other creative and recreational attractions, including the San Diego Zoo. With a variety of cultural institutions among its 1,200 beautiful and lushly planted acres, there is something for everyone.
San Diego Zoo:  San Diego Zoo Global is a not-for-profit organization that operates the San Diego Zoo, the San Diego Zoo Safari Park, the San Diego Zoo Institute for Conservation Research, and the San Diego Zoo Global Wildlife Conservancy. The Zoo was founded on October 2, 1916, by Harry M. Wegeforth, M.D.
San Diego Zoo Global is the largest zoological membership association in the world, with more than 250,000 member households and 130,000 child memberships representing more than a half-million people. Members enjoy free admission to the Zoo and the Safari Park, a subscription to the magazine ZOONOOZ, and other benefits. Both Zoo and Park are open every day of the year.
Little Italy: Little Italy's throughout the United States have symbolized the tremendous contributions Italians have made to this country. Unfortunately, many of these historically established business districts are disappearing before our eyes. These Little Italy's are either declining due to growth of other adjacent ethnic neighborhoods or are a shadow of their former glory due to the dispersion of Italian families from these districts.
Today our community is a model urban neighborhood in the City of San Diego; with new Italian American and non-Italian business owners alike maintaining and opening retail and professional spaces. As well as, creative builders and architects building beautiful new developments. The Little Italy Association of San Diego has been reviving this once thriving neighborhood for the past 20 years; while telling the story of Little Italy to its visitors through public art displays and amazing piazzas. San Diego's Little Italy is not only a model urban neighborhood for the City of San Diego, but is also serving as a model for the handful of Little Italy's remaining throughout the country.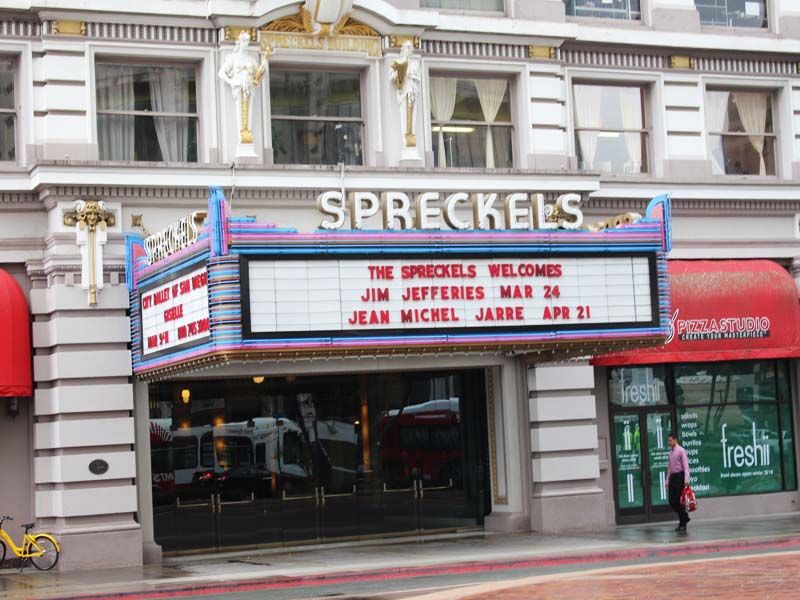 See the above and many more locations in San Diego, in our World Liberty TV Travel and Tourism Channels by clicking here.