By: Lidia Evita, Staff Writer for World Liberty TV
This year's conference, co-hosted by Honorary Co-Chairs Mediacom's Executive Vice President Italia Commisso Weinand and TV One's General Manager Michelle Rice, reinforces NAMIC's mission to educate, advocate and empower for multi-ethinic diversity in the communications industry by offering extraordinary experiences.  Everyday super heroes such as CNN's Don Lemon, BET's Debra L. Lee, REVOLT's Roma Khanna, Univision's Janet Rodriguez, ABC's Juju Chang, The Undefeated's Soraya Nadia McDonald and more, are participating as either speakers, moderators or panelists to provide attendees with invaluable insight from real-life scenarios and situations.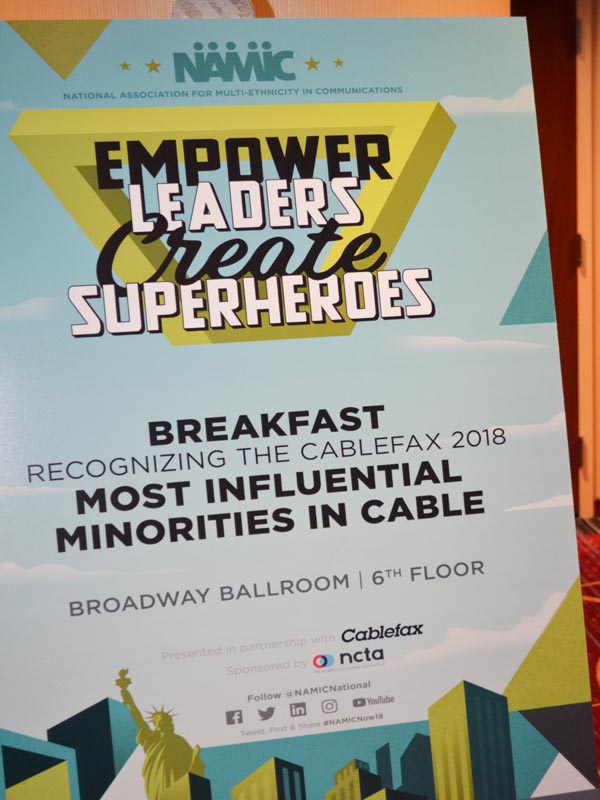 The Following events took place during the 2 day Namic Conference 2018:
Keynote Address with Don Lemon :Keynote Speaker: Don Lemon, Anchor, "CNN Tonight with Don Lemon"  , Don Lemon, an accomplished news anchor and Emmy award-winning journalist of "CNN Tonight with Don Lemon," is bringing an insightful, barrier-breaking story to the conference's Opening Session. The respected news professional will set the tone for this year's conference theme, "Empower Leaders, Create Superheroes," and illuminate multiculturalism by sharing his inspiring journey and thought-provoking insights. This session is sponsored by Charter Communications.
Luncheon – Presented in Partnership with WICT and Sponsored by The Walter Kaitz Foundation Patrick Mellon Mentorship Program Luncheon :Keynote Speaker: John Kobara, Executive Vice President and Chief Operating Officer California Community Foundation .
Description: NAMIC initially established the L. Patrick Mellon Mentorship Program mentorship program in 1993, and in 1997, renamed it in honor of the late L. Patrick Mellon, an executive with ESPN, Inc, one of NAMIC's founding members, and a respected mentor in the cable industry.
The goal of the L. Patrick Mellon Mentorship Program is to aid NAMIC members in growing their careers in the telecommunications industry by matching them with mentors who can assist them with their professional advancement strategies. Previous luncheon speakers include Elizabeth Vargas, Norman Lear, Juju Chang, comedian Robert Townsend, Rosie Perez, and Susan Taylor.
Cablefax 2018 Most Influential Minorities in Cable Breakfast
Industry on the Leading Edge  – The Future is Now
Moderator: Michael Grebb, Publisher, Cablefax
Panel: Raj Bahl, SVP & Chief Technology Officer, A+E Networks, Rob King, SVP of Original Content Newsgathering & Digital Media, ESPN,
Technology disruptions are happening at breakneck speed, and our industry is leading the way in areas that could soon become the new normal. Think The Jetsons meets Minority Report. In this deep-dive discussion, industry leaders give us a glimpse into a world in which Robotics, Artificial Intelligence, Blockchain, Augmented Reality and Connected-everything, rule the day. Sponsored by NCTA.
ABOUT NAMIC: NAMIC (National Association for Multi-ethnicity in Communications) is the premier organization focusing on cultural diversity, equity and inclusion in the communications industry. More than 4,000 professionals belong to a network of 18 chapters nationwide. Through initiatives that target leadership development, advocacy and empowerment, NAMIC collaborates with industry partners to grow and nurture a workforce that reflects the cultural richness of the populations served.
See more about diversity in the Work Place by viewing our World Liberty TV Cultural Channel and Blogs by Clicking here.