BY: Betina Crione Guest Writer for World Liberty TV
We had a pleasure of covering close to 100 fashion designers in New York Fashion Week Fall Winter 2022. In our World Liberty TV Fashion Channels, Blogs, Photo-Galleries and Luxury Channels.
We have to say people are back in the fashion world, bigger and better than ever before, a lot of them as you know have been doing fashion shows, online and virtual due to the COVID-19 Pandemic.
Each and every designer we spoke with they went on to say that, they want to showcase their designs live at fashion shows versus showing them Virtually and remotely. They went on to say human interaction is the most wonderful thing, that leads to making contacts, networking and doing business in a big way.
We spoke to a designer who came from the Caribbean and has been working on his line for close to two years, during the pandemic, he told us he was able to do more creativity to his designs and line of fashions. He went on to say, he is not a big fan of showcasing his line Virtually or Online. He prefers to showcase it live at a fashion event.
We covered some of the biggest fashion Shows in New York Fashion Week 2022.
Art Hearts Fashion: had the largest Runway in New York Fashion Week , at ZiegField Ballroom, it was truly a great fashion Show, Networking parties, High level fashion Shows, following designers:
Participated: L'AMOR BY LIAT MORADI, Argyle  Grant, Domingo Zapata (Artist), Haus of Junon, Julian Ruiz, Barbara Castellano By Giannina Azar, Bree Billiter, Fernando Alberto, Kentaro Kameyma, NDIGO Studio , Willfredo Gerrado, , INIFD-LST – Indian Fashion Trunk Show, Chrystal  Anne,Kenneth Barlis, Mixed By Nasrin, Asta Razma, MISTER TRIPLE X, CUSTO BARCELONA, Wanda Beauchamp and Anthony Rubio. You can view Art Hearts Fashions in our World Liberty TV, Fashion Channels by Clicking here.
Hi Tech Moda Fashion Shows 2022: Experience spectacular designer fashion shows featuring National and International talent, catering to a variety of aesthetics and visions.
hiTechMODA shows are par excellence, professionally produced events providing an opportunity to sponsors, designers, and models looking to showcase their companies, collections, and talent on the runway.
From couture to our Slow Sustainable Runway and everything between, we offer a variety of shows so that each designer can reach their target market. See some of the Designers showcasing their line of clothes at hiTechMODA show 2022, in our World Liberty TV, Fashion Channels and Blogs by Clicking here.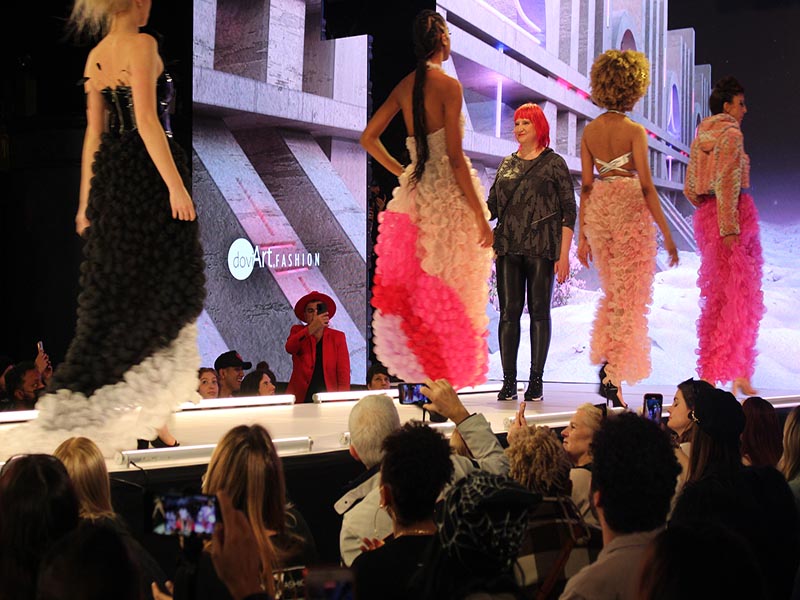 Runway 7 Fashion Shows 2022: Vertical one stop fashion platform Runway 7 announces they will be producing a full roster of events with more than 30 designers during February 2022 New York Fashion Week. All the exciting shows, performances and installations on the Runway 7 calendar will be held at Sony Hall at 235 W 46th Street, near the Paramount Hotel on Thursday, February 10th and Friday, February 11th. See Some of the Runway 7 Fashion Shows 2022, in our World Liberty TV Fashion Channels by Clicking here.
Society Fashion Week 2022: The SOCIETY is a globally renowned fashion company and one of the largest brands within PLATOON Entertainment's scope of events and productions.  Coming onto the scene producing events in the world's most competitive markets such as New York Fashion Week, Los Angeles Fashion Week, London Fashion Week, Paris Fashion Week, Miami Swim Week, and more.
The SOCIETY quickly took the Fashion Industry by storm and continually resets the bar that all other shows aim to live to.  The SOCIETY has since grown into an internationally acclaimed Fashion Experience that was one of the first Fashion Week productions that put an immense focus on making Fashion Week's an inclusive experience for all, by bringing outside patrons, while transforming an industry known for B2B (business to business) interactions into a heavy B2C (business to customer) experience.
In addition, with their worldwide experience in Live Entertainment Production, they have completely remodeled the business format, being the only large scale Fashion Production company to keep their entire Event Production in-house. See Society Fashion Week 2022 in our World Liberty TV, Fashion Channels by clicking here.
Adrian Alicea: The Adrian Alicea brand represents an orgy of defiance. Absolution without the fear of retribution. The temerity of Adrian Alicea is only surpassed by the precise execution of his vision.
Adrian Alicea is a new romantic of romantic excesses. Creating a pirate-like fairy-tale of disguises, he walks a tightrope between ironic hedonistic inclination and highly serious commentary.
There is an insane carcinogenic, merciless narcissism. There is a deafening, endless shout
of "gimme more!" – Earl Murray. See Adrian Alicea Fashion Show, in our World Liberty TV, Fashion Channels by clicking here.
Emerge Fashion Show During NYFW -2022: I am truly grateful to present the Emerge! Fashion live runway show during New York Fashion Week! When I created Emerge! 10 years ago my purpose was to highlight the creativity and art that designers create for the runway.
I am always at awe at the talent and gifts that designers bring to light. I am equally grateful about honoring legendary designer Karl Kani with the Fashion Innovator Award. Universally- deemed the Godfather of Urban Fashion, Karl Kani's style and influence impacted the culture in a major way with his iconic brand. See Emerge Fashion Show in our World Liberty TV, Fashion Channels and blogs by clicking here.
"NYC Live! @ Fashion Week" Fall/Winter 2022 Fashion Showcase: Creative Director and Founder "Michael Reid": Born and raised in Harlem, New York, Wm. Michael Reid has always expressed a desire to become a world-renowned architect.
It was once imagined that he would have an impact on his hometown's world-famous skyline by designing a magnificent office tower or, better yet, a sports and entertainment complex.
However, after attending college in Los Angeles, he shifted into a different gear, which helped him focus on designing and building a first-class company. One of the Entertainers who performed at the Afterparty was Baltimore Bella.   See "NYC Live! @ Fashion Week" Fall/Winter 2022 Fashion Showcase in our World Liberty TV, Fashion Channels by clicking here.
Small Boutique Fashion Week:  ​ 901 Productions is proud to present the 19th season of our flagship event Small Boutique Fashion Week Runway Show and Market NYC. SBFW is the largest event geared toward independent fashion brands. Founded in 2012 SBFW has displayed the collections of some of fashion's most powerful independent fashion labels.
Over 1000+ brands, have been featured at this highly anticipated event and Small Boutique Fashion Week has been featured in many notable publications including Forbes, Vogue, and Fox Business Network.
Small Boutique Fashion Week has a history of enhancing the careers of its participants, and is always on the hunt for emerging designers that are eager to take their business to the next level. See More in our World Liberty TV, Fashion Channels by Clicking here.
See Thousands of Fashion Shows, Runway events, exclusive interviews with Fashion Designers, Fashion Parties, Fashion Show Presentations, Fashion Photo Shoots and much more related to the fashion world in our World Liberty TV, Fashion Channels, Blogs and Photo-Galleries. By clicking here.